The Beast Cop is Back
What I can say about Ma Dong-seok that hasn't been said?
We know what kind of characters he does, pretty similar to each other.
Even if they have different backgrounds, that doesn't mean is not a joy to watch him doing them.
In the sequel of the very popular "The Outlaws", is very clear that this is a movie where he is the star and the main character.
The first one was about the true events that the movie was based on and he had to share the spotlight with the villain. We were invested in the parallel events that were happening.
The Roundup is not as packed in action as The Outlaws, especially by the main team.
But it makes sense from the point of view that this has more politics involved and that time has passed.
Besides they cannot keep handling cases 100% the same way they did it in the past.
We still have amazing fight scenes, beautiful cinematography (especially in said scenes), and a well-written story.
The writer did an amazing job finding ways to incorporate as many people from the original cast as possible. Without making you feel it was a filler or nonsense. Such an awesome feeling to see them again in relevant roles.
Ma Dong-seok, Son Seok-koo, and Choi Gwi-hwa are outstanding in their roles. We can see them as Detective Ma Seok-do, Kang Hae-sang, and Captain Jeon Il-man.
Four years after the events of the Garibong district round-up operation. Geumcheon Police's Major Crimes Unit is given a mission to repatriate a fugitive who fled to Vietnam.
Detective Ma Seok-do and Captain Jeon Il-man intuitively realize that there's something wrong.
The suspect's willingness to turn himself in is suspicious and uncover crimes committed by a terrifying killer named Kang Hae-sang.
Ma and his unit begin their investigation across two countries and follow the bloody breadcrumbs left behind by Kang…
Son Seok-koo gives us a bloodthirsty, unscrupulous, and unapologetic killer, meanwhile Cap. Jeon Il-man is still this funny but caring boss.
What a surprise was to see Park Ji-young in her role. She is the wife of a very important CEO, who is kidnapped after their son is murdered. Even if her role was small, she did a hell of a performance.
The movie is not only a joyful ride (not at all times, because this killer is really crazy) but in part, you feel how in a way is a homage to Ma Dong-seok.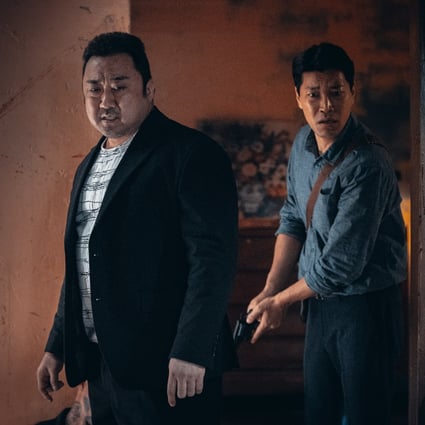 After the first scene, we have his entrance. You can tell is a clear reference to how he was introduced in The Outlaws. It is a similar situation, music, shot, etc.
Then, we have this insane person, who escaped from an asylum biting him in the hands and he asks him if he is a zombie, a clear reference to his character in Train to Busan.
One of the hostages is a school girl, that would be The Villagers.
Then he mentions that now they are going to say they have a terrorist (Derailed), a gangster (like one of those russian tugs) as a boss (The Gangster, The Cop, The Devil).
And when the Captain says he is going to Vietnam he mentions that he is finally going overseas for once but he doesn't speak English (The Eternals).
In one of the photos, they censor his eyes, exactly like in Parasite. When usually, if the media wants to disguise someone's identity, they blur the face.
This is in the middle of all these little nods to his career and how much Korean cinema is making it big.
We have a few jokes, as in the first one, and obviously some questionable practices from a Police's Major Crimes Unit to obtain the truth.
His character and he as an actor have evolved and you can see it.
The Roundup is currently playing in US and Canada Theaters.
Thanks for reading!